Pick Up Games are games we play just for fun and everyone is welcome to play with us.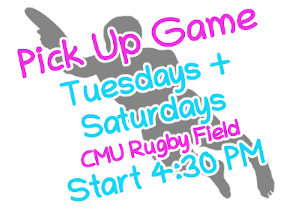 Join our open Pick-Up Game:
Tuesdays & Saturdays
– All skill levels are welcome –
We meet at 4:15 PM, try to start no later than 4:30 PM and play until sunset.
If you want to warm up or practice throwing, please come to the field early.
Bring both a white AND a dark or colored shirt, so we can make fair teams (and switch if necessary). Avoid grey shirts!
Bring Water, you will need it!!! (Opposite of the main entrance are some shops. Don't buy Nestlé/Mineré water though! 😉)
Bring / wear Cleats if you have, especially when it's wet. If you don't, don't worry.
Several people don't wear cleats and some players even prefer to play barefoot at all times!
Location:
Chiang Mai University (CMU) Rugby Field – Right behind the CMU main entrance on Huay Kaew Road. (more details…).
For beginners:

Don't be shy!
Just come to the field early, so we can show you how to throw and explain the basic rules.
If you don't feel comfortable to play yet, you can use the field and our help to improve throwing and catching, watch the game, ask questions and get to know more about Ultimate / Flying Disc, …